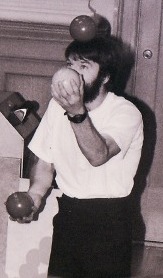 Welcome to Juggling for Beginners!  This site was designed with a simple concept – to introduce people of all ages to juggling.  With that in mind, this site is not just for beginners because it covers topics that even seasoned jugglers may find interesting.
If you are new to juggling, you'll want to visit one of the most popular pages on this site, my tutorial on how to juggle.  My videos make it easy to learn.  Once you learn how to juggle balls, you can start learning some juggling tricks.
Don't forget to visit another very popular page on this site – the page on juggling balls.  This is what every new juggler needs to get started.  You can also visit my page on juggling supplies where I provide great recommendations on what to buy.
Here are a few other things you might find interesting if you like juggling. I put together a great tutorial on how to ride a unicycle. This has quickly become a very popular page. You also might be interested in the art of contact juggling. This is a form of juggling where the balls always remain in contact with your body.
A Little More About Juggling
There are many different reasons to learn how to juggle.  First of all, juggling is a lot of fun, but beyond that it makes you smarter, helps you concentrate, relieves stress, gives you a physical workout, entertains people, gives you a sense of accomplishment, etc.  If you want to learn more about the benefits of juggling, I've written a very informative article on the topic.
I have always encouraged people to learn how to juggle when they show an interest.  People are usually surprised at how easy it is to learn.  You can learn the basics in just a few hours of practice.  It doesn't take much to get started because you can usually find what you need laying around.  Just grab some old baseballs, tennis balls, or ball up some socks.  You don't need anything special to get started.
The Common Perception of Juggling
Most people associate juggling with the circus and clowns.  Sure there are people who juggle in the circus – performers.  Clowns can juggle too, but every juggler is not a clown and not every juggler is a performer.
Juggling has evolved.  I would even go so far as to say it's cool.  Just like skateboarding has its own culture, juggling has its own culture.  It also has many specialties that fit into the general culture.  There are so many different types of juggling equipment, different styles, and interests.  Just take a look at some of the latest juggling videos that are showing up on Youtube and you'll see what I mean.  Juggler does not = circus or clown.
Get Started
So what are you waiting for?  Get started learning how to juggle now.