If you are looking for the perfect present for the juggler your know, look no further. Dube Juggling has a gift giving guide for jugglers that is perfect for finding what you need.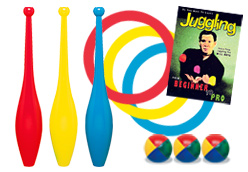 If you are considering giving a gift to a juggler, but you think they already have too much juggling equipment, don't worry – a juggler will always be happy to build their collection! I have several different kinds of juggling balls and clubs.
The Dube Juggling gift guidealso has a list of items that are for people who have never juggled before. In fact, I learned how to juggle when my Dad got me a set of juggling balls one year for Christmas.
So if you really want to make someone happy this year, fill their stocking with juggling balls, knives, clubs, and torches!