Juggling Clubs Guide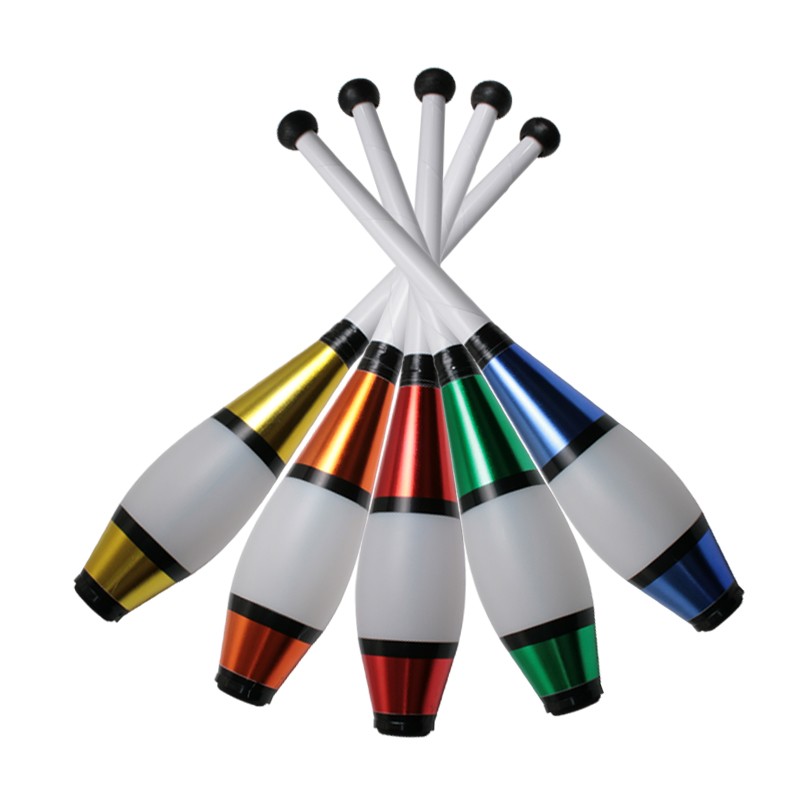 Juggling clubs or juggling pins? It doesn't really matter but most jugglers refer to them as clubs. Most non-jugglers refer to them as juggling pins. You will find that most juggling equipment retailers will also refer to them as clubs and that is how I will be refering to them.

Juggling clubs
are by far my favorite. They are just so much fun to juggle. It does take some practice to make the transition from from balls though. But other than the fact that they spin every time you throw them, the basic concepts of juggling still apply.
But how do you choose the ones that are right for your style of juggling? Well, that is not an easy question to answer because preferences vary greatly but read on for some tips.
Some Questions To Consider
The first question to consider is what type of juggling are you doing? Are you a 3 club juggler? Do you juggle 5, 6 or even 7 clubs? The answers to these questions will help you decide. If you are juggling 3 clubs only, then you might like the ones with the big heads and short handles. If you are a numbers juggler, you probably want something a lot lighter with long handles.
Weight is definitely important too. Some clubs are heavier than others. You might prefer a 250gm club over a 195gm club. For 5 club practice I use my 225gm PX3′s. I also use my 260gm Dube European Clubs sometimes if I am just practicing with 3 clubs.
Another question to consider… Where are you juggling? Are you in a gym, in your house, on the grass, on the concrete? This may seem like a silly question, but trust me, you need to consider this. If you are constantly juggling on an unforgiving surface like concrete, then you will want to consider a club like the PX3 Pirouette. This club is very durable and will take the abuse you put it through. A club like the Dube Phatboyz Club, is much better left to inside juggling or on the grass. The Dube clubs just won't take the abuse of slamming against the concrete again and again. You could also consider a molded plastic club. I don't really care for those type though.

Some Insights
My favorite juggling club out on the market right now is the PX3. PX3′s are made by Play Juggling in Italy. They make very high quality equipment that can take a beating.
What I like about them is that they have a PVC tube through the center to stabilize the club. PVC is more durable and more predictably weighted than a wooden dowel like some clubs. The handles are also soft and easy to catch. They have rubber padding on each end too.
Play makes some clubs that are decorated and some that are plain and probably meant for practice. The more decoration, the more expensive they are.
A great club if you want some decoration is the Dube European. They are not cheap but they can be customized in almost any way. I haven't seen other manufacturers that offer as many customization options. They are soft in your hand and have padding on the ends which is great for balancing. Dube European clubs are the clubs I learned to juggle with and I still juggle with them to this day.
I have a funny story and it is one reason why different jugglers need different equipment. One day I was doing a juggling show. It was me and 3 of my friends. We were doing a show for a church picnic in the churches parking lot. While my friend was doing his diabolo act he accidentally stepped backwards onto one of my clubs and….. crack! Of course the wooden dowel in the center couldn't stand up to 200lbs of pressure.
So I guess the moral of the story is keep in mind the amount of stress you want to put your club through before you choose one.
And as always if you have any questions please ask me! I couldn't possibly dump all I know onto this page.
Buy Your Clubs Here
For the full selection, visit the Juggling for Beginners Store.

This is the PX3 Pirouette weight 7.9 oz, 224 gm and length 20.5 in., 520 mm. This juggling club, made by Play Juggling in Italy, is super durable and excellent for practicing.

This is the Dube Phatboyz Juggling Clubs weight 9.2 oz, 260 gm and length 20.5 in., 521 mm. This club is great for passing and solo acts.