Juggling balls come in a wide variety of weights and sizes. Not all balls are equal and it is important to find the ones that are right for you. Some people might think that a ball is a ball and they are all just the same for juggling, but this is definitely not true.
Some balls are just not good for juggling. Take a tennis ball for example. Tennis balls are about the right size for a juggling ball but they are much too light. What happens when the balls are too light? They bounce off your hands when you try to catch them, making it much harder to juggle. You could definitely manage to juggle 3 tennis balls, but when it comes to doing harder tricks or juggling numbers… forget it!
Are you looking for a great set of juggling balls for a beginner? Try my JFB Economy Beanbags or my JFB Premium Beanbags.
Questions to Ask Yourself
The first question you have to ask yourself when choosing a juggling ball is what is type of juggling am I doing? Different jugglers prefer different balls. Are you doing 3 ball juggling, 5 ball juggling or even 7 ball juggling? Are you a bounce juggler? Are you doing a lot of body catches? Are you contact juggling? Answering these questions will give you clues as to what type you might want to buy.
The next question you have to ask yourself is what weight and size do I want? Since juggling balls come in different weights and sizes you need to know what is right for you. Answering some of the questions that I mentioned previously might help you find the right size. If you are a performer then you might want balls that are larger like 3 inches or greater for a good visual effect on stage. If you are juggling 7, then using balls that are 2 inches might suit you.
After you figure out the type and size you want, then you can ask yourself what kind of designs do I want? There are so many different designs that it makes it hard to choose sometimes. For performing, you will probably want to choose something a little flashier. For practicing, I prefer single colored balls.
Hybrid Juggling Balls
In the past few years, hybrid juggling balls have become extremely popular. The basic hybrid juggling ball is one that has a hard or soft outer shell, and is filled with liquids or solids that give the ball a unique feel.
Some of these balls are filled with solids such as sand, salt, or other materials. Others are filled with liquids. The filling is only enough to partially fill the balls so that when the balls are thrown up in the air, the filling disperses and stabalizes it in the air. This can also contribute the to nice feeling that you get when you catch these balls as all the dispersed material condenses once again.
Different Types of Hybrid Juggling Balls
Russian balls are not new but they have increased in popularity in the last few years. These balls have a hard outer shell and are partially filled with a solid material. The two types of materials commonly used to fill russian balls are sand or salt. The JFB Russian Balls are filled with salt.
I have determined that this is a better filling because sand is so fine that you need to permanently seal the balls to prevent the sand from leaking out. My russian balls however are filled with salt and have an easily removable plug so that you can adjust the weight or replace the filling if necessary.
I have seen russian balls in two sizes. The JFB Russian Ball comes in 2.5″ size. This is a typical juggling ball size and this is the prefered size for juggling more than 3 balls. Russian balls also come in a 3″ size. This would probably be a good size for juggling 3 balls or for needing extra visibility if performing.
Sil-X Balls, made by Play Juggling in Italy, are extremely popular. The outer shell is a soft rubbery material. The inside is partially filed with liquid silicone. Don't worry, this silicone is non-toxic. It's the same type used in the food production industry.
The really nice thing about the silicone filling is that it rolls inside the ball perfectly. It behaves like no other filling possibly could by making it perfectly stable in the air. Additionally, this filling makes them good for body rolling and body catches.
Sil-x Balls come in 3 sizes. SIL-X 67 mm 110 gr, SIL-X 78 mm 150 gr, SIL-X 100 mm 300 gr. I personally own the smallest size in white. When I first juggled these, they seemed a bit light for their size. After juggling them for a while though, I got used to them and I love them now. I checked their weight on my digital scale. They all came in at a perfect 110 grams. This just shows you Play's commitment to quality.
MMX Balls come in two different types. There are MMX and MMX Plus. They are made by Play Juggling in Italy. MMX come in two sizes; 62 mm, 110 gr and 70 mm 150 gr. MMX plus come in only one size; 67 mm, 135 gr. The size is the main difference between the Plus and the regular. Both balls are soft like a beanbag but durable and round shaped like a stage ball. Both are filled with millet seed and have a invisible plug. They both come in all the same colors. The feel of these balls is similar to how a latex baloon feels. These balls are UV reactive.
DX Chroma Plus Balls, made by Beard Juggling in the UK, are similar to the Play MMX Balls. The filling is the same. The main difference is how the outer shell feels. DX are made from a rubbery material and MMX have a softer feeling like a latex baloon. DX Chroma Plus come in two sizes; 62 mm, 108 gr and 68 mm, 143 gr. They come in UV reactive colors.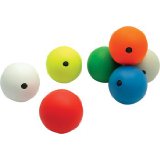 This is the Play MMX Ball 62 mm (2.5 inch) 4.1 oz (115 g) or 70 mm (2.8 inch) 5.3 oz (150 g) This ball is the perfect mix between a stage ball and a beanbag. Its as soft as a beanbag but has a super soft feeling in your hand like a beanbag. I highly recommend this ball.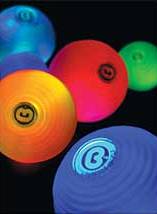 These are the Boing color changing light balls These balls are unlike other light up balls because they change color as they are juggled. They are also very affordable compared to other LED balls.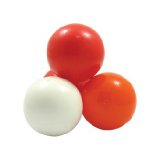 This is the Play Sil-X Ball 3.07 Inch (78 mm) 5.3 ounces (150 g) This ball is injected with liquid silicone giving it a feel like no other ball around. If you want a unique juggling ball this is your pick.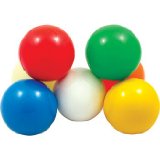 This is the Play Stage Ball 70mm (2.76 inch) 100 gram (3.53 oz). These balls have a nice shiny finish which makes them great for performing. They are also good for contact juggling practice. They are made of flexible rubber which gives it a grippy feel.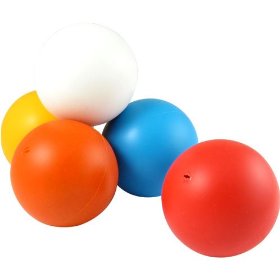 This is the Play SRX Russian Ball 3.07 inch (78 mm) 4.23 oz. (120 g) This ball is perfect for body tricks, dead drops, body catches. The SRX is partially filled with very thin quartz sand.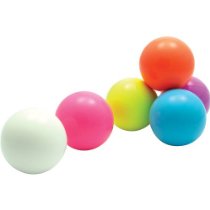 This is a silicone ball. These balls are very expensive because the material used to make them is expensive. Unlike rubber balls, they will not stain or get discolored. They have almost 100% bounce ratio and they are the best you can get for bounce juggling. They are also great for traditional juggling. They will last you pretty much forever.

This is the Mister Babache 100mm (4 inch) stage contact juggling ball. This ball is great for 3 ball juggling, performing and contact juggling. 100mm is a large size compared to most juggling balls making it great for contact juggling and performing on stage.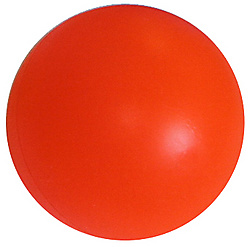 This is the Mister Babache 63mm (2.4 inch)Turbo Ball This ball is excellent for those who like to incorporate bounce into their juggling. They are 100% rubber and have a 90% bounce ratio. They are also great for traditional juggling. This is a good option if you can not spend around $30 each for silicone balls.
I hope that this has been helpful. If you need more information about what to juggle, check out this thread on Juggling DB.