So you want to know more about Juggling-for-Beginners.com? No problem. This website was created to spread my passion for juggling to everyone who is interested. My name is Steve and I have been juggling for about 17 years now. I started juggling when I was in 8th grade. Starting only with a pair of beanbags that my father got me as a present for Christmas. I learned quickly and wanted to learn as many new tricks as I could.
The book that came with the beanbags that my father got for me was sort of confusing. The result – I learned how to juggle the shower pattern before I learned how to juggle the cascade pattern. This is why I believe in video juggling tutorials. I try to explain the difference between the two patterns.
The next year when I went to high school at St. Gregory's Academy, I met some other jugglers. Lucky me! They taught me how to juggle much more than just beanbags. I learned clubs next. Over the years I got my hands on all kinds of juggling equipment.
Even though I've been juggling for a while now, I still practice and have a lot of fun learning new things. I'm currently working on mastering 5 clubs and trying to incorporate pirouettes and other tricks into my juggling.
Me and those other friends formed a juggling group called the Assorted Nuts! We started performing shows where people were actually paying us! Imagine that, getting paid to juggle and having fun too.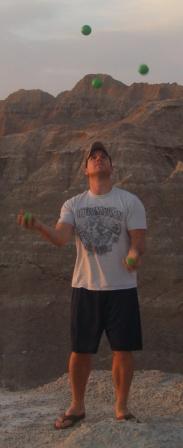 One day after a show we came up up with and amazing and adventurous idea. We planned to travel to Spain and juggle our way through the Camino de Santiago. We earned enough money with our shows to purchase all 10 plane tickets to Spain.
This wasn't your normal tourist trip to Europe. Not by a long shot! We brought no cash with us. Seriously! All we brought were our bicycles, juggling equipment, sleeping bags and a few pairs of clothes. While we were there we biked over 500 miles along the Camino raising all our money for food by busking in the streets.
We stayed there for a month. It was an amazing experience! We had so much fun that we did it again the next year in Portugal. I think this is an experience that every juggler needs. I hope that you consider doing this one day. You won't regret it! Trust me!
Enjoy the site and keep practicing!
-Steve