My Trip to The Dube Juggling Store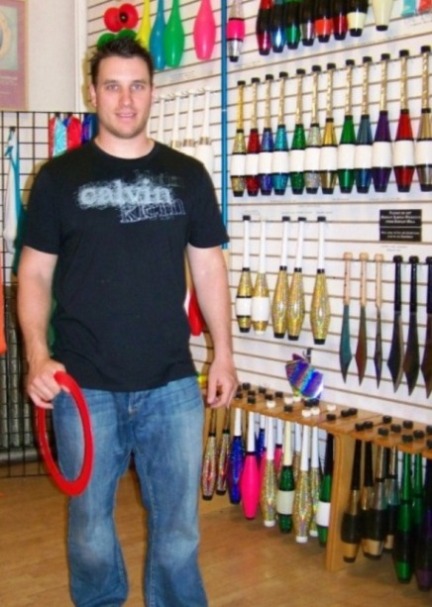 The last time I was in NYC I went to the Dube juggling store. The address is 520 Broadway, 3rd Floor New York, NY 10012-4436. In my search for the store, I pulled out my phone which has GPS. I was already in the general area so I knew it wasn't far.
As I got close I was looking for a sign with the familiar Dube logo. This is where I went wrong. There is no sign and it's not a huge store with a window front on the street. The store is on the 3rd floor of a building that houses many other businesses. So in order to find it you have to look for the 520 on the door.
When you get inside the building you will see a directory informing you that the Dube juggling store is on the 3rd floor. My advice, take the stairs. They are much faster than taking the old slow elevator. The door to the store will be locked so you have to knock to be let in.
When I got inside it was like being a kid in a candy store. As you can see from the picture the walls a lined will all different types of juggling equipment. Everything that is on the Dube juggling store website is available right there in the store.
My favorite part about going to the store was getting to try some of the equipment. I had always wanted to test out the peach beanbags. I had thought about ordering them but I'm glad I got to try them because they are a little too light for me.
Another great aspect is that there are things on sale that are not offered on the website. There are lots of different juggling clubs that are sold in sets of 3 for $75 which is a pretty big discount if you consider the normal $41 for a European club. You can also find a lot of seconds (things that have minor imperfections) on sale.
While I was there I bought 1 European club and 1 juggling ring. Why 1 each? Well I bought 1 club because someone had stepped on my club and cracked it in half. I bought 1 ring because I am going to try to learn 6 rings now and I already have 5.
The girl I spoke to was very helpful. She was able to look up my previous order so that I would get the same customization as my previous club. I get the impression that if I was there earlier they would have put it together for me that day. It was late in the day though so they had to ship everything to me.
Next time you are in NYC, I would add the Dube juggling store as one of your destinations. Its something that every juggler will enjoy.